In a world where everything is changing and advancing rapidly, mere classroom education is not enough. If we want to give our children a global edge, we must provide them with a platform that builds confidence, nurtures inner talents, and enables the development of self-awareness. This is the recipe that Global Edge School Hyderabad follows. And, that is why it is among the top schools in Hyderabad today.
In this article, we are going to talk about the school's location, curriculum, admission process, and infrastructure in detail. Let's dive right in!
About the school
Global Edge School Hyderabad was established in 2005 under the aegis of the MBBR Education Society. It has worked on multiple aspects of growth over the years, emerging as a leading institute that provides a holistic education in 2019.
It currently has three branches in Hyderabad, each of them known to provide quality education to students from pre-kindergarten to grade X.
Location
As aforementioned, the school has 3 branches. The main branch is in the IT hub of Hyderabad, Madhapur. Its strategic location is the primary reason why Global Edge School Hyderabad is sought after every academic year. The other two branches are in Kukatpally and Banjara Hills.
Parents have the flexibility to choose a campus that's feasible for them. Each branch also provides a transport facility, making it even easier for students to reach the school.
Curriculum
The school follows the CBSE syllabus and incorporates Continuous and Comprehensive Evaluation (CCE). The Global Edge School Hyderabad curriculum has been sketched based on the National Curriculum Framework and NCERT.
The school does a great job in combining Indian heritage, thoughts, ideas, tradition, and culture in its core curriculum to ensure that it churns out global students of the 21st century who are also sensitive to the diverse cultures around them.
Academics
Global Edge School Hyderabad has a unique teaching methodology based on Bloom's Taxonomy of Learning. This is an interactive teaching method that fosters hands-on learning through the participation of every child in the class. To further ensure active learning, the school restricts class strength to 25 students and has an overall student-teacher ratio of 10:1. In other words, it is a completely child-centric method of learning that includes field trips, presentations, activities, group discussions, and role playing.
Assessments are regular and teachers use them as a tool to evaluate the child in every aspect of learning. Weekly unit tests, quarterly examinations, etc. are a part of the learning process. The school also issues home work (assignments and fun at home) that includes a written task and an activity.
Alongside, children engage in multiple co-curricular activities that help with their cultural and literary growth. This is of paramount importance for holistic education. Since they are a part of the curriculum itself, children get an opportunity to learn through various mediums and develop their a huge range of skills such as self-esteem, self-awareness, self-confidence, team skills, socialization, etc.
Admissions
While the admission procedure is available online, we urge you to contact the respective branch for details. You may have to visit the branch personally and take things forward from there because the criteria and openings vary largely. For example, at the moment, admissions are open only from Nursery to Grade 5 for the Kukatpally branch.
An alternative is to contact them via email or telephone but we always recommend school visits.
Infrastructure
Global Edge School Hyderabad prides itself on providing top-notch facilities in all its branches. The buildings are well-constructed, keeping the growing needs of education in mind. Let's walk through the infrastructure and amenities in each branch:
Global Edge School Madhapur
The Madhapur branch is the first and main branch with classes from kindergarten to grade X. It boasts of a variety of amenities that help children garner quality education.
Well-ventilated classrooms with smart boards
A large playground and facilities for indoor games
A library with 5000+ titles
Composite science lab, math lab, computer lab, etc.
Dedicated studios for fine arts and performing arts
Dining facility
Gardening area
Infirmary with a doctor
Transport facility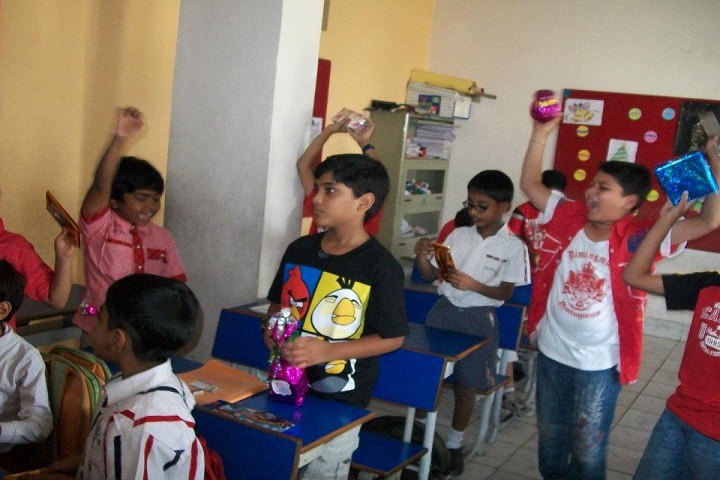 Global Edge School Banjara Hills
The Banjara Hills branch is future-proof with the latest amenities that take mainstream education to a new level.
AC classrooms with digital learning tools
Audio-visual facilities and dedicated spaces
Curriculum research team
Transport
Global Edge School Kukatpally
Kukatpally is the latest branch of Global Edge School Hyderabad. It was designed by Mr. Vijay Gupta, a renowned architect. The state-of-the-art campus has unique amenities that have helped it become a leading school is a very short span of time.
If a leading CBSE school in Hyderabad is on your checklist, Global Edge School Hyderabad must be your priority. You may choose any branch based on your convenience.
Did we miss out on important details? Are you an alumnus or a parent of a Global Edge School pupil? Please comment with your feedback and suggestions. We will surely include it in our article. We are looking forward to hearing from you!