Ah, South Bangalore! The most happening part of the city is home to everything you could ask for. From cool startups to high-tech industries, world-class healthcare facilities, and educational institutions, it leads in them all! In our article, though, we are specifically going to talk about the best schools in South Bangalore along with important details about them such as infrastructure and admission process. Let's begin:
1. Delhi Public School, South Bangalore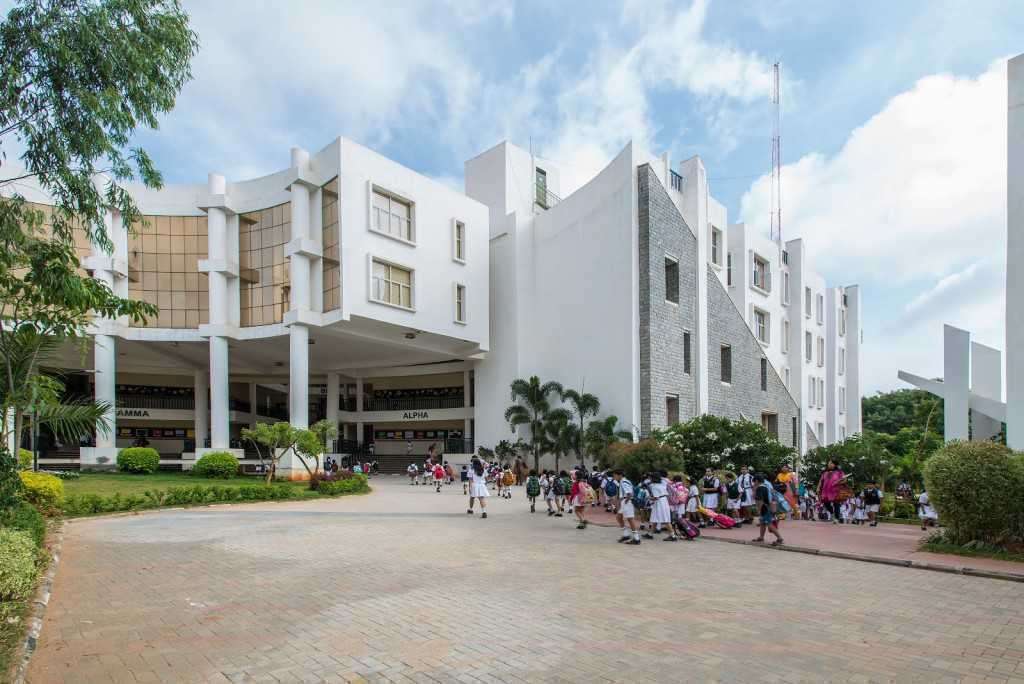 There is absolutely no doubt that Delhi Public School South is one of the best CBSE schools in South Bangalore. The reason behind this is its approach to education. It builds a conducive environment that takes learning beyond the school's walls into the real world. It also ensures that every child has the freedom to explore and nurture inner talents. Its teaching model includes character, versatility, intellectual competence, and skill training. All these put together help kids grow into responsible citizens.
The CBSE school is located on Bikaspura Main Road, Kanakapura Road. It has classes from Nursery to grade 12. Each class has exposure to multiple facilities such as an auditorium, digital classrooms, a large playground, transportation, and healthcare.
Location 
Delhi Public School South Bangalore is located on Kanakapura Road. It is easily accessible from the main part of the city. The school also offers transport facilities to make the commute easier for all students and staff members.
Google pin: https://goo.gl/maps/5AeKRGks6poXboTN9
Delhi Public School Fees
Anuval FEE structure 2024-2025
Nursery to class X
Class
IST term Fee ( Before 10th June 2019)
SMART CLASS/ENTRAR ACCESS FEE (BEFORE 10th JUNE 2019)
3rd FEE (BEFORE 10th DEC 2019)
TOTAL
NURSERY
44975
3600
38875
87450
LKG
44425
3600
38325
86350
UKG
43350
3600
37250
84200
1
42650
3600
36550
82300
2
42300
3600
36200
82100
3
41850
3600
35750
81200
4
39650
3600
33550
76800
5
37350
3600
31250
72200
6 TO 10
34925
3600
28825
67350
Admission process
Start the process by registering online. This is the fastest way available. The only thing to note here is that there are separate forms for admission to grades Nursery to X and for grade XI. Make sure you download the right form to avoid hassle and confusion later on.
Also, if you have any questions or would like to get fee particulars before handing the form in, we request you to get in touch with the school directly.
2. National Public School, Koramangala

You can't speak of education in Bangalore and miss out on National Public School, Koramangala. It is a co-education, day school located in the National Games Village in the large neighborhood.
The school was founded in 2003 as the third branch of the National Public Schools in Bangalore. It is known not just for its infrastructure but also for its focus on the holistic development of every child. It is affiliated with the Central Board of Secondary Education (CBSE) from Nursery to grade 12 and follows an integrated curriculum, which includes sports and extra-curricular activities. The facilities it provides to its students include spacious classrooms, a resource center, an AV room, a healthcare center, an art room, an auditorium, state-of-the-art laboratories, etc.
Location
The school's prime location in the National Games Village Complex, 80-feet road, Koramangala, automatically makes it appealing. It is easily reachable from Indiranagar, HSR Layout, and other neighboring areas.
Google pin:  https://goo.gl/maps/gt9i7KSEmPUKm62G6
Admission process
National Public School, Koramangala, is one of the best CBSE schools in Bangalore. Thus, it is very much in demand. However, the school only has limited seat availability every year. It follows the CBSE guidelines for admissions such as the following:
Siblings of students get first priority
Children of staff members get second priority
Nationally mobile groups such as central services and transferable services are also given preference
Admissions for KG II and grade 1 are closed because the classes are full
Admission to grades 2 to 9 and grade 11 will be dependent on a written examination that's usually conducted in April or May.
You can find out more about the process and get the admission form directly from the school premises. If you prefer, you can get in touch and set up an appointment beforehand.
Fee Structure: 
PRIMARY SCHOOL (1 – 5)   -153000
MIDDLE SCHOOL (6 – 8) -154090
HIGH SCHOOL (9 & 10) -164795
SENIOR SCHOOL (11 & 12)  -168260
3. Presidency School
Presidency School is another top CBSE school in South Bangalore, located in Belekahalli, off Bannerghatta Road. It was established in the year 1976 and since then, it has been successful in delivering high-quality education to all its students.
It is coeducation, day school with classes from Nursery to grade 12. Its ergonomic campus with A-class learning facilities demonstrates just how seriously the management takes wholesome education. From digital classrooms and resource centers to special education facilities, the school has them all! Moreover, as a part of the curriculum, children go on field trips and gain hands-on knowledge from various experiences. This further enhances their abilities to learn and retain information for longer durations.
Location
Presidency School is strategically located in Yelahanka in North Bangalore. Yelahanka is developing very quickly into a fast-paced business center with A-class amenities for living and working. It is also very well-connected to the rest of the city through the six-lane highways and multiple roadways. The International Airport is also quite close by.
Google pin:  https://goo.gl/maps/PJbAAbUZJQLWzjPW6
Admission process
Registrations usually begin in August every year. The admission process begins online with an inquiry. You can also head over to the school and begin the process there. Admission forms are available at the office or online. You can download it, fill it out, and submit it along with the fee.
Depending on the availability and eligibility, the school will get in touch with you to proceed further. If everything goes well, there will be a placement examination. The type of assessment and the syllabus will, of course, vary with the age of the child and the class you are seeking admission to.
While the school prefers siblings of its students, it also invites applications from all nationals regardless of creed, caste, race, or state.  
Fee Structure
Presidency School's annual fee is Rs.1,40,000 to Rs. 2,00,000 per annum, which may vary based on class.
The detailed Fee structure is shown below:

4. National Public School, Indiranagar

National Public School, Indiranagar, was founded in the year 1982. Its prime location and its dedication to academic excellence have helped it race to the top of the rankings. It sits pretty among the list of best CBSE schools in South Bangalore with its sister school in Koramangala.
NPS Indiranagar is located in the HAL II Stage. It is coeducation, day school with classes from Nursery to grade 12. The CBSE school follows all the guidelines of the national framework but also integrates activity-based learning and technology. This ensures that children are empowered and well-versed with the latest advancements around them.
Google pin: https://goo.gl/maps/Cz5J3yC6xPtdDyyt5
Admission process
When admissions are open, you can register online and submit your form along with the required documents. Once you fill out the form, you can submit it with the application fee at the school. Make sure you visit the school on working days between 10.00 AM and 12.00 PM only.
The guidelines for admission vary from class to class. That is why it is important to be careful when you choose the form. Also, as per the norms of CBSE, children must write an assessment examination. The school prioritizes siblings of students and children of staff members for admissions. However, it is an inclusive school and does not discriminate against students of different backgrounds.
Fee Structure
| | | |
| --- | --- | --- |
| CLASS | TUITION FEE (in Rupees) | ANNUAL / MONTHLY OTHER CHARGES FOR OTHER FACILITIES (in Rupees) |
| PRIMARY | 154885 | 11770 |
| MIDDLE | 147935 | 12520 |
| SECONDARY | 142970 | 12520 |
| SENIOR SECONDARY | 127410 | 14440 |
5. Brigade School
Brigade School is located in a posh locality in J. P. Nagar. The campus, popular as the Brigade Millennium Campus, is home to the finest infrastructure. The school is spread across 22 acres and a 3-acre residential enclave. Children are free to use all the facilities in this area and enjoy themselves during their free time.
Brigade is a CBSE school with classes from Nursery to grade 12. The coeducation school delivers technologically-driven education that gives students the edge. It also has a world of amenities such as a tuck shop, gathering spaces, landscaped gardens, wall encyclopedias, AC auditorium, and a swimming pool. The focus through all this is child-centric learning in an interactive space.
Location
A co-educational institution, affiliated with the CBSE Board, The Brigade School JP Nagar has over 1300 students across Nursery to Standard 12 levels. Located in JP Nagar, The Brigade School  JP Nagar began its first academic year in 2004. Young in years and spirit, yet rich in the academic experience, the school has already earned the reputation of being an institution of excellence. 
Google pin: https://g.page/brigade-school-jp-nagar?share
Admission process
Admissions are currently open and seats are available for Nursery, LKG, grades 2 to 9, and grade 11. To start the admission process, you must download the Expression of Interest form, fill it out, and submit it at the school. You can also fill it out online and submit it immediately without downloading it. After this, the management will get in touch with you to set up an appointment and school visit. Make sure you read the guidelines and requirements in detail before submitting the form.
Fee Structure
Brigade School's annual fee is around Rs. 1,50,000 per annum, the fee may vary based on the class. 
6. Bethany High School
Bethany High School is among the best schools in South Bangalore for the ICSE syllabus. It is also one of the oldest schools on our list! It was founded decades ago in the 1940s. However, it has undergone multiple renovations over the years, staying in touch with the demands of advanced education. Today, it is recognized as a safe place for children to foster their curiosity, speak up, and learn through exploration.
Located in Koramangala, Bethany High School is a coeducation day-cum-residential institution. It has classes from pre-nursery to grade 10 and offers world-class amenities to all students including a library, transport, canteen, art rooms, etc.
Location 
Bethany High school is located in the sixth block of Koramangala, Bangalore, India. It has over 2500 students from Nursery through Class 12. Bethany High has an ISC Junior College, of Classes 11 and 12. 
Google pin: https://goo.gl/maps/FU7KBu52WLYHa6x59
Admission process
Bethany is an extremely popular school. This is why, when it comes to admissions, it is almost always full! That's why you should always be ready and fill out the admission form the moment it is available. The admissions for 2020-21 are currently open and the school has provided all details on its website not just for the Koramangala branch but also for every other campus in Bangalore.
Fee Structure
The fees at Bethany high is Rs. 3500 per month
7. St. Francis School ICSE
St. Francis School (ICSE) is a minority institution located in Koramangala. It works towards the moral, social, intellectual, and physical development of every child through academia, activities, and sports.
It provides a vast number of facilities to all its students from pre-primary to grade 10. These include spacious classrooms, advanced teaching aids, a huge playground, a park, a multipurpose AV room, multiple laboratories, etc.
Location
St. Francis School is centrally located in Koramangala (3rd Block) in Bengaluru. The campus is surrounded by manicured gardens and tranquility. This, combined with the fact that it is easily accessible, makes it an excellent school, location-wise.
Google pin :  https://g.page/st-francis-high-school-karnataka?share
Fee Structure
Admission process
Application forms for the academic year 2024-25 are available online. You may begin the admission process by filling out the form and submitting it. However, you must remember that there are separate forms for each class. Make sure you download the right form. Alternatively, you can contact the school via email or drop by to garner complete details before taking things forward.
There you have it! This is our list of the best schools in South Bangalore. If you think we missed a school or if you would like us to add any more information to this list, please let us know through comments.